Journals 2005, May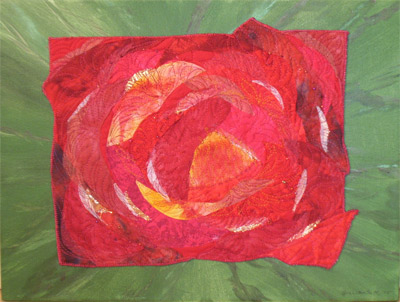 I was running out of time on several challenges, so I made one piece that served jointly as my May Journal, my "red" challenge, and my "flower" challenge. Since I rarely work abstractly, I wanted to try to convey the essence of a red rose in this collaged and quilted piece. Instead of trimming to the regular 8 1/2 by 11 inch size, I left the edges irregular, and to increase the contrast, painted a 12 by 16 inch gallery-wrap canvas in shades of leaf green and mounted the finished piece.

Size: Art quilt is approx. 8 1/2 by 11 inches. Overall size 12 by 16 inches.
$ 375.00
Click
here
to see details of the quilt image.
| Back to Gallery |