Store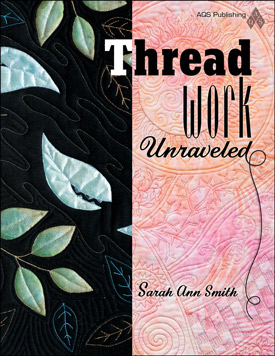 ThreadWork Unraveled - Rest of the World
My book on understanding and using thread on the surface of a quilt which is now available! You'll learn everything you need to know about thread, from how it is made to what will make your life easier, and your quilting better! You'll learn how needles, tension, your workspace, sewing machine, stabilizers, and other tools all help you in using all those wonderful threads now available. I'll help you understand how and why certain tools and notions work best and when another option is a better choice. And there are fun projects, from a quick and easy needle-keeper to decorative-stitch leaf appliques, free-motion quilting with fancy-fiddly threads, and a leaf-printed table-runner. I hope you enjoy it as much as I enjoyed writing it!

The book is organized in three sections: The Basics, Applique, and Quilting. There is also a References section and a good index (which every good book needs!). Designed to be a reference book you'll come back to again and again, it also has projects that help you learn how to adjust your machine and surroundings so they work best for you, as well as some fun projects to implement what you've learned from the book. To see inside the book, visit this blogpost (and follow the links to some very kind reviews!).

Teachers! You can use this book as a textbook for teaching, too! By Spring 2010 I will have materials available to help you use the book in this way including a class description, the teacher's "punch list" of things to take to class, and a Student Materials List. I figured if I've already done the work to put these together, I might as well share! I can't be everywhere to teach, but maybe I can help you teach these fun things. Write to me if you're interested by clicking on the Contact button in the menu-bar above. To see inside the book, visit this blogpost (and follow the links to some very kind reviews).

Please let me know if you would like me to autograph or add a dedication in the comments area of your order.

Books will be sent by first class international mail.
NOTE: Due to new EU VAT extraterritorial taxes, I WILL NOT SHIP to countries in the EU. I'm sorry about that! Please complain to your lawmakers.

Price: Book 28.95 + Rest of the World Delivery 34.65 = 63.60
Another note: the price of postage these days is INSANE. Please look on your country's Amazon or equivalent first...you may be able to get this book at a lower cost. Also, it is available as an e-book from AQS here.
63.60